Part of being a professional is following instructions. This is your chance to be professional. Below is what we need to be technically able to publish an image...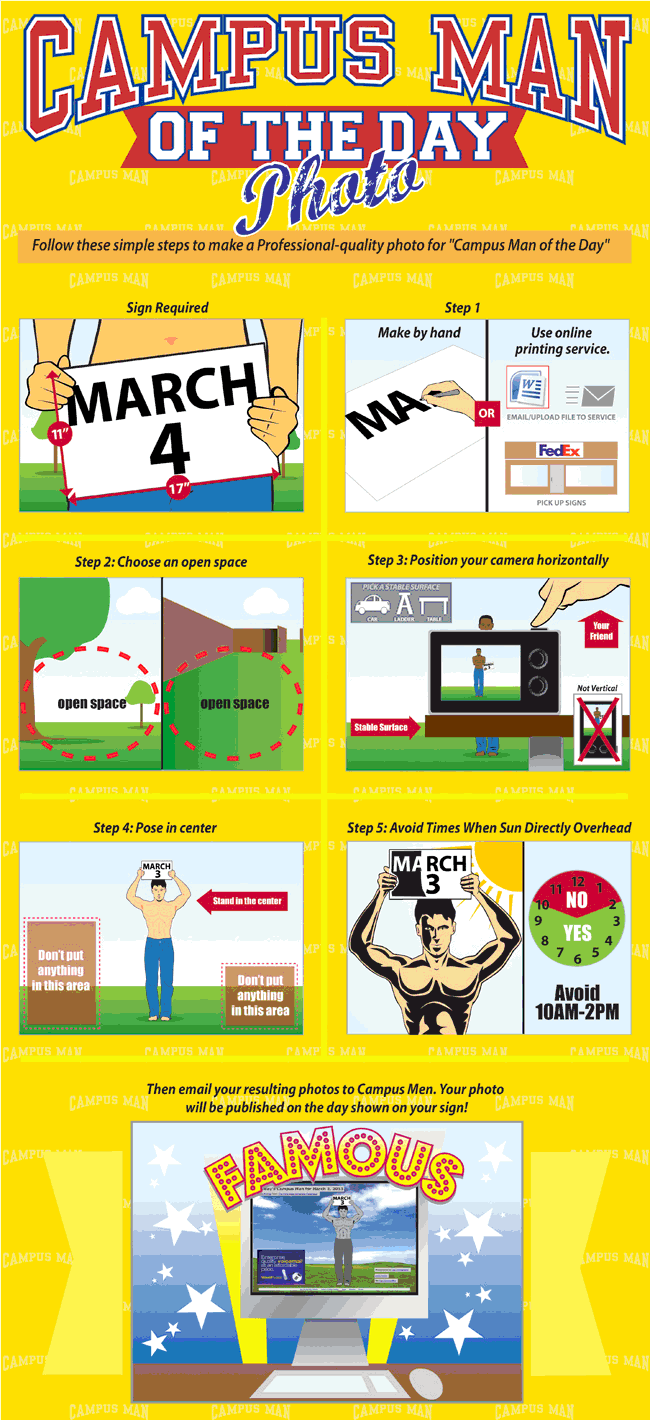 Basic Requirements
To publish an image, the image must be horizontal. See an Example
Do not crop your image. Keep your image at 2:3 or 16:9 aspect ratio. Your image must fit the entire screen of a monitor, 1024 pixels wide by 768 pixels tall.
Images can be black and white or full color.
Formats acceptable include Jpeg, TIF, RAW. Do not send PDFs or GIFs.
The photograph must show a student holding a dated sign.
Only one student per photograph.
How to Make a Quality Photograph
Please do not send us dark or blurry images or photos with heavy shadows on the student's face or body. We cannot "touch up" photos to remove shadows or make a photo appear more in focus. We cannot color correct or enhance your image.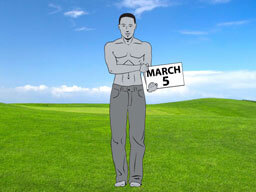 Where to Stand or Sit
Pose in the center of a horizontal photo, with ample empty space to the left of the student. When published, a banner ad will cover the lower left corner of the image. A headline, along with the student's name and college will appear in the upper left corner of the image. We cannot modify or move these areas, so do not allow anything in this area (including the student's body parts) at the time of the photo session.
The date on your sign (which your student should hold) must be fully visible in the image and not be obstructed by glare from the sun or flash. if you cannot see the date on the sign through your camera lens, the date will not appear in your finished photo!
Lighting
It is important to be diligent in producing a correctly lighted and in-focus image.
the student's skin should be evenly-lit (not many shadows)
the student's face and eyes should be in focus
no heavy shadows in the student's face
While it may seem smart to shoot your photo when the sun is highest in the sky, this often produces shadows in the face and makes the student's eyes squint. Avoid shooting your photo when the sun is directly overhead, usually during the hours of 10AM-2PM). Hold your photo session in the morning or late afternoon.
The above photo has too many shadows. Do NOT shoot your photo this way.
Avoid Blurry Photos
Holding your camera in your hand can cause the student's eyes to be out of focus. It is very smart to rest the bottom of your camera on a steady surface instead of holding the camera in your hand.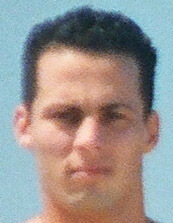 The human hand can move ever so slightly while the photo is being captured, causing faces to look blurry. Professional photographers use tripods to prevent photos from being out of focus. Instead, you can simply rest the bottom of your camera on a car hood or stepladder can produce the same good results!
Location: Choose Open Areas Outdoors
We encourage you to hold your photo session outdoors in a simple, open space, but not when the sun is directly overhead. Back yards, decks, parks, vacant lots or playing fields are perfect locations.
Don't try to be fancy with backgrounds! Avoid concerning yourself with a fancy or creative backgrounds. Surprisingly, any simple open area or grassy field will work great. Remember, the photo is about the student, not the background.
If you must hold your photo session indoors because of cold weather, email us for instructions on how to create a photo indoors.
Date Signs Required
Each photo you submit must show one male holding a sign that displays a month and day of the year. Available dates to print on your signs are shown here.
You need multiple signs for your photo session, one for each photograph you intend to submit.
Download our 11 by 17" template
Change the date in Microsoft Word.
Make different files for each sign, each with a different day of the year.
Do not include the year.
Then print out on white paper. If you do not have a printer, send the file to at your nearest Fedex Office Store.
Then, have your student hold one sign for each pose.
Your signs must be white.
Plain paper will work fine, but heavier card stock is easier for the student to hold while posing.
Use 200-240 point Font
Use a standard font (Arial or Verdana). Do not use fancy or script fonts - which are often difficult to read.
Assure your sign is 11 inches tall by 17 inches wide. You can print out a 11 by 17 inch sign on white card stock at your nearest Fedex Office Store.
Handwritten Signs
You can hand-write the month and day - as long as the handwriting is eligible!
Do not add signs and dates cannot to photographs using Photoshop. The student must hold a sign at the time of the photo session!
Multiple Signs for a Single Photo Session
Create photos for multiple dates at your photo session, up to 12 "dates" per student. Each sign must clearly show a different month and day. Choose dates that are at least 60 days after the day of your photo session will be held. Only choose one date per month for each pose. Do not choose dates falling in the same month.
Poses Must Be Safe For Brands
This site is advertiser-supported. Advertisers do not want their logos and ads to appear next to highly sexual images. Please only shoot and pose for tasteful images. Aim for "cute" more than sexual. Avoid overly sexual poses, and simulated sexual positions.
An inviting smile can be the key factor that makes a photograph great.
We reserve the right to not publish your photo and assume no liability for such election, if you fail to follow the standards listed below:
The photo must show the student holding a sign which displays a month and day.
Choose any pose you wish, as long as the student holds a dated sign. We suggest these example poses.
No poses that suggest sexual acts or sexual positions
Do not show frontal nudity or bare buttocks.
Do not show unzipped pants with pubic hair visible from the zipper
Your photo should not show an erection in any way (including under fabric/clothing).
the student's hands should not touch his crotch area.
Drooping pants that show (only) the top of buttocks is acceptable
What to Wear
The student should wear whatever he feels comfortable. It is good to choose clothing that fits the student's personality, background, hobbies or sports he plays.
We prefer the student to pose shirtless. If the student prefers to wear a shirt, we prefer a tank top, tight-fitting sleeveless shirt or any of the following work well:
Under Armour Sleeveless Compression T-Shirt Tops - $23
Adidas Men's Techfit Powerweb Sleeveless Tee - $45
Gary Majdell Sport Muscle Shirt - $22
No logos or website addresses on shirts!
Below the waist, the student can wear long pants or jeans, shorts, athletic pants, underwear, boxer shorts. No jock straps, thongs or wet underwear.
Large Brand Logos Prohibited
Do not wear large logos of brands. If a logo appears on the student's shorts or pants, cover it with opaque tape or any other object or choose a different item of clothing. If the logo is small - such as a waistband - and is not to easily seen from 12 feet away, ignore these instructions.