Twelve guys are about to become famous on your campus ...by appearing in your college's Campus Men Calendar.
These "Campus Men" are destined to be sensations when the calendar is unveiled. Past calendars have been so popular that girls on campus and throughout the nation await their release each year. Our upcoming group of Campus Men just might be our most popular yet! - And we'd like you to be a part of the excitement.
Being featured in a calendar can be one of the most exciting things to happen to you as a college student. It is also an excellent way to "leave your mark" during college.
(And of course, it is a great way to get attention from girls!)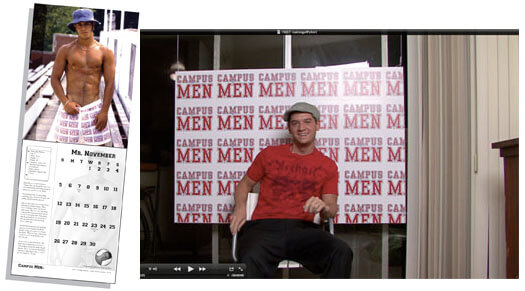 The Campus Men Calendar features only students enrolled at your college.
To be considered, create a profile on CampusMen.com.
Benefits of Appearing in a Calendar:
Students consider Campus Men a chance to be part of a tradition. They will be immortalized in print and leave their mark during college.

Many previous students said they looked upon the calendar as "something I could say I did" -- something to "show the grandkids someday."

Some decided to appear in a calendar "for the money." They earned a lot of money by allowing people to buy calendars directly from them.

Some wanted their resume to stick out from the crowd during a job interview.

Being a campus sex symbol can generate career opportunities.

You may also appear on TV if you are selected to be interviewed for a news story or as a guest on a talk show!

Some students used Campus Men as motivation to improve their body in preparation for their photo session.

Some shy guys used Campus Men as a way to build confidence or "come out of their shell."

And yes, it is a great way to get attention from Girls!
To be one of the twelve students selected to appear in the calendar, you must encourage family, friends anc coworkers to pledge to order a minimum of 48 calendars through your Fundizer page. You can read our rules - which explain the details of this requirement.
Ready for campus-wide fame? Create a profile right now.