Campus Men is interested in partnering with several talented model photographers who wish to recruit college students from nearby college campuses throughout the year.
Photographers who partner with us over the span of a year will be part of a fun, innovative and unique web venue and generate publicity and exposure for their photography.
Additionally, photographers are given a reason to recruit more and more potential male models for their portfolios and earn money from the photos they allow us to display on our site. (Photographers who participate receive moderate advertising revenue through the Google Adsense program., explained below)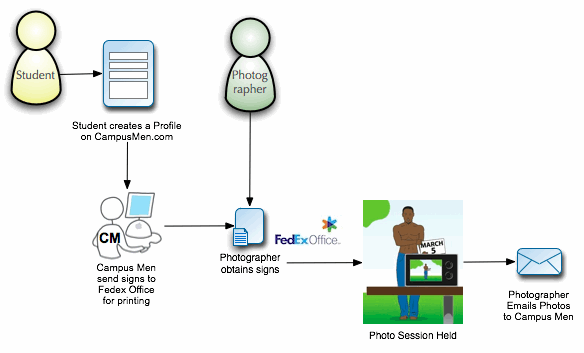 Campus Men Calendar will be an Online "Guy of the Day" Site
In pre-launch, CampusMenCalendar.com highlights one male college student "of the day." Each day one student appears with a photo that depicts him holding a sign that displays "his day of the year."
Photographers hold photo sessions with students in their local area throughout the year, at which time he or she photographs their student holding a sign that reads a month and day of the year. We display this photo and student on our front page on the date shown on the sign.
We are currently in pre-launch, which means we are recruiting students and photographers to be part of this launch.
Get started today by searching for college students in your area today.
Below are details of our Campus Men Photographer Partnership Program:
Campus Men does not pay photographers for use of their images. Instead, photographers who supply photos to this site earn 100% of the advertising revenue on any pages that show their photos forever, provided they provide us with a Google Adsense account ID.
Photographers Earn Advertising Revenue Forever
If you have a Google Adsense account, and supply us with your 16-digit account ID (Example: ca-pub-1234567890123456), we will always display your advertisements served by your Adsense account whenever your photo appears on a page on our site.
If you do not have an Adsense account, we will display our default ad and keep all the revenue. In this case, we will not make any payment to you.
An Adsense account is easy to obtain. Sign up today here.
Revenue Expectations
* = This is meant to a long-term arrangement. You will not get rich from any one photo published on our site! You will need to provide at least two photos for each month to begin seeing sizable earnings in your Adsense account.
You can expect to earn (from Adsense) up to $3-6 per 1000 impressions your photo receives. However, we cannot guarantee your earnings or impressions. You will be able to see the number of impressions from our site and your earnings from our site by logging into your Adsense account.
Impressions depend on the popularity of this site, the popularity of the college student and popularity of the photo. It may take up to 3-4 months after launch to build sizable traffic.
Photographer Bonus Program
We reward photographers based on the number of students they successfully* submit to be published. A schedule is below:
1-7 students: Adsense revenue only
After you submit your eighth (different) student: Adsense revenue + Set of 60 Date Signs (with reserved dates)
After you submit your 20th (different) student: Adsense revenue + Campus Men business cards
* Successfully = the student registers on CampusMen.com and a photo which meets our requirements, along with a valid student agreement is submitted.
Promotion Support
Once launched, we will actively support this site via various marketing methods. Our program is led by a digital marketing professional who has led digital efforts for top brands you see on your grocery store shelves every day. Our marketing methods include social media, viral campaigns and earned publicity. However, we encourage you to "Like" your own images when they appear on our site. Our goal is to build web traffic for your photos on our site - and you will benefit by this high volume traffic.
Copyright
We do not use your image elsewhere without your expressed written permission.
If you created an image, you (as the photographer) retain ownership of your image. You permit us to publish your image on this website in perpetuity. This means your image will be forever available on this site. You cannot remove it.
You can embed a copyright notice in the lower left corner from the edge, no more than 20 pixels from the bottom of the image. Your embedded copyright text should not be larger than 12 point, Arial or Verdana font. (We can add this, if you wish.)
We do not pay photographers for use of their images.
Talent Sourcing
We do not supply students to photographers. Photographers locate students and arrange with students independently of our site. Read these tips on how to scout potential students.
Placement
Your photo will appear on this site's front page during its corresponding day (12:00 AM - 11:59 PM). Example: a photographer holds a photo session with a student on June 15, at which time he or she photographs the student holding a sign that reads "Oct. 2". We will display this photo and student on our front page on October 2.
Once your day passes, your photo will appear in our Past Campus Men section. (We may elect to use your photo again, during the following year on the same month and day that is shown on the sign your student holds in your photo.)
Hyperlinks
In return for using a photographer's image, we will include a hyperlink to the photographer's website (if the photographer has a website). If the photographer's site ever becomes non-functional, we will remove the URL. This link does not appear on our site's front page. This link appears on the photographer's index page which shows all the students the photographer submitted.
Your Logo
If you have a logo for your photography business, we can publish your logo (Maximum 250 pixels wide) on the page that shows all the students you have submitted. We do not display this logo on your photo.
Our Logo
After receipt of a useable image, the photographer permits us to add our Campus Men logo to the photographer's image before it is published on our site.
Ad Content
This site is advertiser-supported. A banner advertisement will appear on the page on which the photographer's photo appears. If the photographer has his or her own banners ads, we cannot place the photographer's advertisement on the photographer's photo's page. The ad is served automatically from Google ad servers.
Requirements for Your Student
All males featured on this site must be currently or formerly enrolled student at a US, Canadian, British or Australian college or university. To appear as a "Student of the Day" on CampusMenCalendar.com, your student must register on CampusMen.com (Your student does not register on this website. Your student registers on CampusMen.com - (a different website.)
You student must have a profile page on CampusMen.com because when your student's photo appears on CampusMenCalendar.com, visitors will be able to learn more about him by clicking a link to be taken to his CampusMen.com profile page.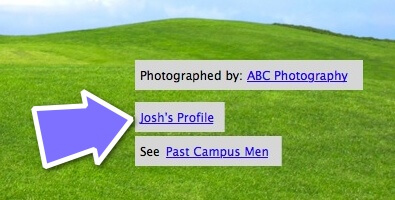 Registering on CampusMen.com is mandatory! So, have your student register today, before you schedule his photo session. If you photograph a student, but your student fails to register, we will not be able to publish your photograph.
Legal Permission & Proof of Identity
You cannot register for your student. Your student must register on CampusMen.com using his own real email address. By registering, your student is giving us consent to participate in this program.
Your student must sign this participation agreement and return it by US mail along with a photocopy or scan of his driver's license to prove his identity. Your student cannot use a fake or assumed name.
Student Age Requirements
It is always best to choose students who are at least 18 years of age. However, if you model is under 18, a parent MUST attend your photo shoot! If you model is under 18, his parents MUST email us first before your shoot is held. Your model's parents are required to sign a participation agreement before we publish his photo.
Other Terms
"Campus Man of the Day" - is an online calendar. Students and photos will not be published in a paper calendar.
You are not recruiting models for us. We are not a modeling agency, we do not arrange modeling jobs for students and we do not photograph students you locate as part of this program.